In recent days, photos and recordings documenting the encounter of two divers with a giant green anaconda have caused a huge sensation. Web users are hugely impressed, but is the footage really that sensational?
On 29 July 2019, Bartolomeo Bove and his friend Juca Ygarape, while diving in the waters of Brazil's Formoso River, near the town of Bonito, encountered and recorded a fantastic shot with an anaconda measuring 7 metres. The extraordinary encounter with the huge and majestic animal immediately became an internet hit and spread like a virus across the web.
Although an encounter with a colossal snakesize snake causes a faster heartbeat in most divers, it should be noted that this is nothing new, and the location itself is famous for being the place to observe anacondas in their natural habitat.
"The rivers and reservoirs in the area around Bonito are the only places in South America where anacondas can be found in crystal clear waters, making diving with them possible. As you can see in the video, the anaconda swims very calmly, completely indifferent to our presence and only at times does it approach interested in my camera, exploring its lens with its tongue," said Bove
Our readers have already had the opportunity to learn a little about the amazing diving with these magnificent animals in the past, when in 2011 we published articledescribing the details of diving with anacondas in the Formoso River.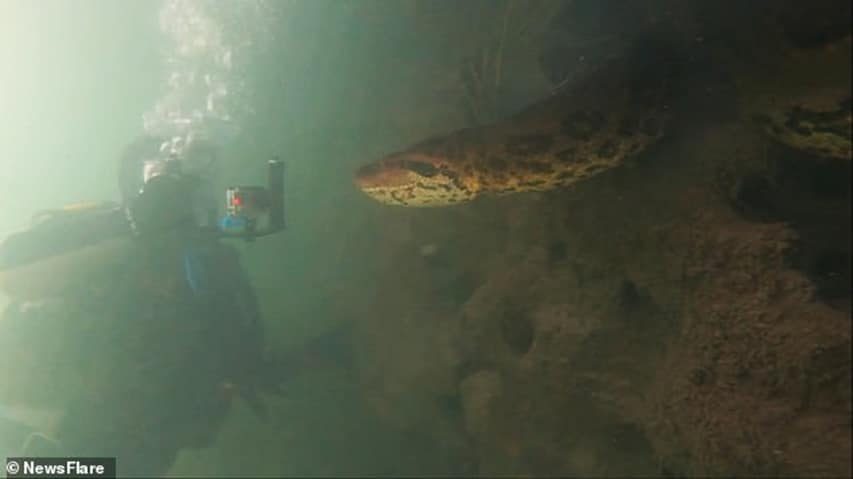 It is a wonderful and unique experience, and the region where you can see anacondas in their natural habitat is one of the most unspoilt places in all of Brazil. In fact, the local authorities take great care to ensure that it remains so. Therefore, the number of tourists allowed in the area is strictly limited.
The green anaconda is the largest species of snake currently found on Earth. Its size can reach up to 9 meters in length, with a body weight of about 250 kg. Although their size may arouse fear, these animals are characterized by a very gentle character and disposition.
Source: Newsflare
[pro_ad_display_adzone id="31298″]